You know the phrase "good fences make good neighbors"? Well, we couldn't agree more! But what do you do when there is no fence or the fence is unsightly? Privacy screening shrubs to the rescue! Here at Buchanan's, we think that living plants can make the best fences. Now through fall and winter is an excellent time to plant new shrubs, as they'll have lots of time to acclimate and put down roots before the onset of summer heat. We have plenty to choose from so if you need to create your own living privacy fence come talk to our garden staff. To get you started, here are a few of our favorite screening shrubs:
Southern Wax Myrtle
This evergreen native beauty offers up olive-green aromatic foliage that can tolerate sun to partial shade in a variety of soil conditions. They will thrive best in fertile soil, so side dressing with compost each year is recommended. The standard selection grows up to 15-feet tall and makes the perfect large scale privacy screen. If you want the same look but something a bit smaller, the dwarf selection reaches only 6- to 8-feet tall; which is still perfect for covering up an unattractive chain link fence or patio screen. As a bonus, Southern Wax Myrtle is also a good habitat plant for many species of birds. The female plants produce beautiful bluish colored berries that are also popular with birds.
Elaeagnus
While Elaeagnus may have fallen out of fashion over the last decade, it's hard to find a screening shrub that is as easy to maintain. With persistent drought conditions, this tough beauty is starting to find its way back into favor. Plants are highly drought tolerant once established and they will tolerate most any soil conditions. Plants quickly grow to a height and width of 6- to 8-feet. The foliage sports a silver-white sheen which provides much needed foliage contrast in the landscape. Plants can thrive in either full sun or part sun conditions. Another bonus: plants are highly deer resistant.
Yaupon Holly 'Scarlet's Peak'
Need a tall screening shrub, but don't have a lot of space to squeeze them in? This new selection of native Yaupon holly is the perfect solution. 'Scarlet's Peak' can grow to 20-feet tall but only reaches 3-feet wide at maturity. Plants sport glossy dark green leaves on silvery stems. Tiny white flowers are followed by translucent red berries.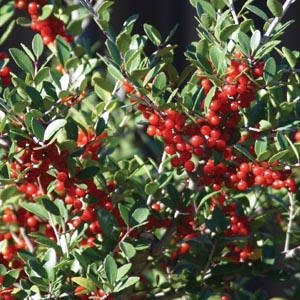 Japanese Blueberry
If you need a very tall living screen, Japanese Blueberry (Elaeocarpus decipiens) might be the plant for you. Japanese blueberry makes an excellent small street side tree or property divider. They grow at a moderate pace to a mature height of 40- to 60-feet tall with a more narrow mature width of about 20- to 30-feet wide. The evergreen foliage is glossy green but turns a bright red in fall. Bluish black olive shaped fruit follow in winter.
Viburnum
Viburnum obovatum, also known as Walter's Viburnum, is a large native shrub dense with small leaves. This growth habit makes it perfect for a screening hedge, or to camouflage an unattractive fence. This evergreen Viburnum is virtually pest free and easily established in a full sun to part sun location. Plants grow to about 12-feet, making it a versatile shrub for creating a living fence or patio screen. Another great screening Viburnum is Awabuki, or Sweet Viburnum (Viburnum odoratissiumum var. awabuki ). This Viburnum has the added bonus of producing cluster of very fragrant white blooms. The evergreen foliage is attractive and shiny and plants produce fruit in colors that change from red to black. While this species grows a little more slowly, they can eventually reach twenty feet tall in a full to part sun location.
Golden Cestrum
If you're looking for a bit more bloom color from your living fence or screening shrubs, Golden Cestrum (Cestrum aurantiacum) produces tubular yellow fragrant blooms almost all year long. Plants grow very quickly, which is a benefit if screening is a high priority. The lanky growth habit of Cestrum almost puts it into a "semi-climber" category. Plants can grow to up to 12- to 15-feet tall, but in our area you'll most often see them at around 10-feet tall and about 6-feet wide. You can easily tip prune plant to keep them to the desired size. Hummingbirds love this plant! Place plants in a full sun location. They may experience a bit of tip burn if temperatures dip too cold, but they rebound quickly.