Trees
Trees are a great addition to any yard. Trees can add a lot of character to your property, and they also present the opportunity to get some fresh air and enjoy a peaceful atmosphere in your yard during the day or night.
There are several trees that attract butterflies, hummingbirds, and birds. These trees are an excellent way to start attracting wildlife into your yard.
Buchanan's Favorites
Mexican Plum
Eastern Redbud
White Oak
Purple Vitex
Nuttal Oak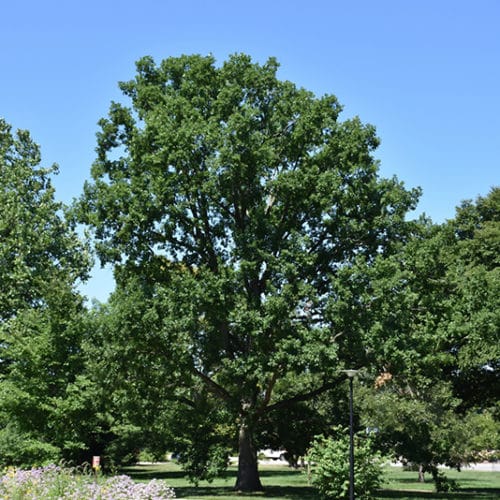 Chinkapin Oak
Longleaf Pine
Shade Trees
Add a shade tree to your home — Red Maple, Eastern Redbud Cedar, or a Loblolly Pine. They are perfect to plant in the fall!
Make sure to put them in a full sun area in your garden. Newly planted trees like to stay hydrated. They prefer their soil average to moist so it's best to water them 2-3 times a week until they are established.
Learn more about shade trees here!
White Oak
Black Gum
Red Maple
Bur Oak
Mexican Sycamore
Bald Cypress
Loblolly Pine
Fruit Trees
Expand your garden by adding a fruit tree. There is nothing better than going outside and picking fresh fruit straight from your backyard. Check out the variety of fruit trees we have to offer like — bananas, figs, and avocados.
As we are entering the cooler months, fruit trees are great to plant in the fall. It is important to plant them in large pots, so they can be nice and comfy to flourish. It's better to water them once a week or depending on how damp the soil is, once every other week.
Loquat Tree
Kandahar Early Pomegranate
Little Ruby Fig Tree
Lila Avocado Tree
Arbequina Olive Tree
Fruiting Mulberry
Garnet Sash Pomergranate
LSU Gold Fig
Jewel Blueberry
Blanc du Bios Grape
Climax Blueberry
Ouachita Blackberry
Arapaho Blackberry
Valencia Orange
Tarocco Blood Orange
Grapefruit 'Oro Blanco'
Cocktail Grapefruit
Improved Meyer Lemon
Persian Lime
Banana 'Ice Cream'
Papaya
Explore Trees