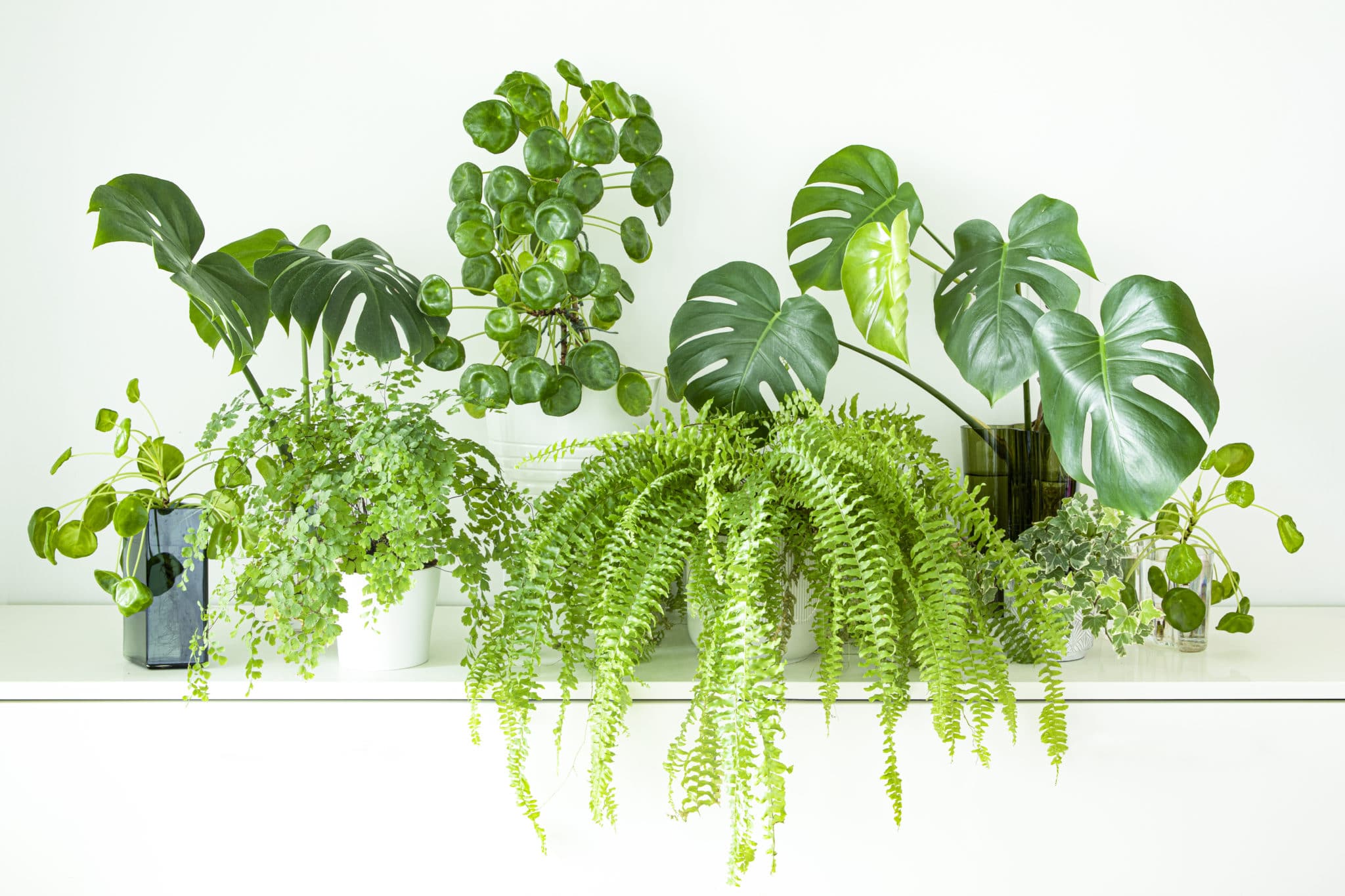 Life indoors
Bring nature into your home with a healthy houseplant from our Greenhouse. Located at the heart of the nursery, the greenhouse is teeming with unique finds. Help create a healthier, more Earth-friendly environment with nature's perfect living air filter, the indoor house plant. Buchanan's Native Plants has over 100 varieties of plants, including popular choices such as Dracaena and Sansevieria. Let us help you bring the best of the outdoors inside!
---
New Greenhouse Arrivals
The greenhouse is bursting with brand new finds, rare plants, and plant collector favorites! Now is the time to pick up that rare philodendron you've been itching to add to your collection.
Availabilities are limited, so don't wait! Here are our top picks of this week's new arrivals:
Monstera Peru: This monstera is not like the others! Monstera Peru is characterized by its trailing nature and leaves that have deep ridges. Want to purchase now? Click here to buy now!
Calathea 'Network': Calling all Matrix fans! This Calathea has leaves that appear pixelated. Each leaf has a unique pattern that is perfect for the tech-lover.
Hoyas: We received hoya's galore! In fact, we have so many different varieties that we have a dedicated Hoya table in the greenhouse this weekend. If you hurry in, you can grab a Hoya 'Krimson Princess'. This hoya has pink variegation and was extremely popular in the 70s & 80s.
Raven ZZ
Hoya 'Krimson Princess'
Calathea 'Misto'
Pothos 'Baltic Blue'
Calathea 'Network'
Geogenanthus 'Cilates'
Ant Plant
Hoya Chelsea
Synogonium Wenlandii
Zenzi ZZ Plant
Whale Fin Sansevieria
Hoya 'Macrophylla'
Hoya 'Retusa'
Apohballis Acuminsatissima Lavallaei
Cocoon Plant
Philodendron 'Siltepecana' Totem
Rhizo Begonia
Heliconia 'Variegated'
---
Let's Talk Houseplants
Keep them safe.
There are a lot of plants to worry about when it comes to pets — dogs, cats, birds, even fish. Too many plants can harm your pet, so it's best to choose the plantings that will work best for your animal-filled home. Thankfully, there are a lot of low- and no-risk houseplants that animals love just as much as we do.
Here are a few of our favorite pet-safe plants:
Aluminum Plant
Chinese Money Plant
Peperomia Rossa
'Taco Shell' Peperomia
'Owl Eye' Peperomia
'Hope' Peperomia
Solutions for low light.
Have you struggled to find low light house plants because you think they will grow too slowly? You're not alone. Most people seem to be afraid to buy plants that require only low light because they believe the plants will not grow fast enough to justify any space they take up. Thankfully, this isn't true at all. There are plenty of options available for those that want plants that can do well without much light.
Try out these low light options:
Jade Pothos Ivy
Snake Plant
Starfish Sanseveria
Pothos Pearl n' Jade
Devil's Ivy
Gold Snake Plant
ZZ Plant
Marble Queen Pothos
Peace Lily
…and more!
Low maintenance favorites.
Every person needs to have "Easy houseplants". These indoor plants are the easiest to take care of. They do not need much water or light, and yet they can grow quite big and beautiful. These are also some of the best plants for purifying air indoors. Although the process is simple, remember that each plant variety has its own set of growing conditions and care instructions.
Here are a few of our favorite easy care plants:
Split Leaft Monstera
Neon Pothos
'Brazil' Philodendron
English Ivy
Prince of Orange Philodendron
Love at new heights.
There is something elegant and almost magical about tall houseplants. Tall houseplants can add visual appeal, cozy up a room, and help to filter the air. Though there are plenty of benefits of tall houseplants, it's important that you select the right plant for your space. Visit the greenhouse to pick your perfect match!
Add these plants to your space for height and beauty:
Fiddle Leaf Fig
Various Palm
Ficus Moclame
Ficus Alii
Yellow Gem
Fabian Aralia
Giant Bird of Paradise
Midinght Fire Ficus
Treat yourself.
Rare house plants are always a special addition to your plant family. Some are popular because they are the easiest to grow and some because they are the most beautiful, but most can only be found only in special collections. Every gardener has their own specialties. While one might prefer to grow vegetables, another might gravitate towards exotic tropical plants. If you like to grow something rare and unusual, then the rare house plants collection is for you!
Grow your collection with a few of our favorites:
Philodendron 'Pink Princess'
Philodendron 'Merlot'
Philodendron 'Jose Bueno'
Pothos 'Cebu Blue'
Philodendron Goeldii
String of Hearts
Shingle Plants
---
Buy your favorite plants online
Pet-friendly tropical plants
Jenna walks us through pet-friendly picks that will keep your fur babies safe and your house green!
---