Looking for plants that are suited for our hot summers that don't require much watering?
Here is our list of ten drought-tolerant native plants for Houston. While most do well in full sun, we've included a few that do well in shade too.
---
Native plants. The term has different meanings for different gardeners. There are Texas natives, US natives and those plants that act like natives. All in all, what most of us want in our garden are low maintenance plants that are attractive and functional. Plants that are not invasive and are beneficial to wildlife. When you plant a garden, it is not just for you – it is a habitat for all living things around you.
---
1 Texas Lantana (Lantana horrida also referred to as Lantana urticoides)
A native to Texas, this variety of Lantana has yellow to orange flowers and attracts butterflies. It is very drought-tolerant as well as salt tolerant. Deer resistant. Hardy in our zone 9, but may need some protection in severe winters. Prefers well-draining soil. Full to part sun. Spreading shrub 3-6 ft. Blooms all summer long. NATIVE.
2Black-eyed Susan (Rudbeckia fulgida 'Goldsturm')
This perennial coneflower has bright golden yellow flowers with black centers. A drought-tolerant perennial with large blooms up to 5 inches across that makes great cut flowers. Full to part sun. A favorite in native gardens in Houston. NATIVE.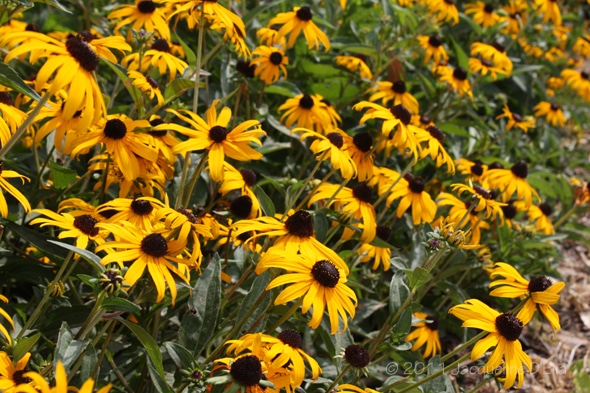 3Eastern Purple Coneflower (Echinacea purpurea)
Drought tolerant native that is a favorite of butterflies. Prolific bloomer from spring through summer. Tall stems with soft lavender petals attached to an iridescent cone. It prefers full sun to partial shade in well-draining fertile soils. 2-5 feet tall. Makes long-lasting cut flowers. An outstanding performer throughout our hot summer. NATIVE.
4Autumn Sage (Salvia greggii)
A drought-tolerant perennial that flowers continuously from late spring until hard frost. Prefers full to part sun. Grows about 3 ft tall and as wide. Red flowers with pale green small leaves. Attracts hummingbirds! NATIVE.
5Gulf Coast Muhly aka Pink Muhly Grass (Muhlenbergia capillaris)
This tough native perennial grass with a large, airy seed head grows is stunning when planted in masse. The spikelets are purple and in fall the plant takes on a feathery, deep pink hue. Drought-tolerant. Full to part sun. Clumping habit 2-3 ft. tall. NATIVE.
Incorporating some plants with a spiky feathery texture adds visual interest in your garden. It also adds gentle motion in the garden as the spikes sway in the breeze.
6Chaste Tree, Vitex (Vitex agnus-castus)
This small deciduous tree (or large multi-trunked shrub) blooms profuse spikes of lavender flowers. It blooms heavily in the early summer, and then sporadically throughout the summer and fall. Vitex is heat, drought, and pest tolerant — which makes it an excellent choice for low maintenance gardens. ACTS LIKE NATIVE.
There are several color variations available, such as 'Shoal Creek', a lovely lilac color; and 'Montrose Purple', deep color with longer spikes. Read more about Vitex.
7Cast Iron Plant (Aspidistra elatior)
Aspidistra elatior (aka "cast-iron plant"), is a tough, drought-tolerant shade plant, once established. Thrives in dense shade and adds texture and vertical interest with its broad dense green leaves. Prune any cold damaged foliage in late winter. New growth will emerge from the base of the plant in spring. Grows in clumps. It also makes a nice low light houseplant. ACTS LIKE NATIVE.
8Firebush, Hummingbird Bush (Hamelia patens)
This tropical produces long tubular flowers in shades of red, orange and yellow, perfect for attracting hummingbirds. Plants perennialize in Houston gardens, but top growth may freeze to the ground in especially cold winters. Blooms from late-spring through late-fall. Full sun. NATIVE.
9Blue Plumbago (Plumbago auriculata)
Plumbago is basically maintenance-free. No need to fertilize or worry about insects. Once established, it's fairly drought tolerant, but may need supplemental water when things stay really dry.
It grows in sun, but it also grows really well in partial shade, as long as it gets adequate light. At maturity, it will be 3-4 feet high and 4-6 feet wide. ACTS LIKE NATIVE.
10Esperanza, Yellow Bells (Tecoma stans)
This deciduous shrub produces clusters of large tubular flowers in shades of bright yellow, to apricot, orange, and red. A hummingbird favorite in full sun. You can find this plant growing wild in the rocky slopes near San Antonio, northern Mexico, and Arizona. Blooms from spring through fall. At maturity, it grows 3 to 6 ft in height and 3 to 4 feet in width. Stands up to our Texas heat and is drought-tolerant. Read more about Esperanza. NATIVE.
This list is some of our favorite drought-tolerant native plants. There are lots more that are suitable for Houston area gardens. Want to learn more about native plants? Come to Buchanan's.
If you want a low maintenance, beautiful garden – start with natives. It's not too late to plant. Visit Buchanan's Native Plants today and our native plant experts will help you pick out the right plants for your garden.
Here are a few helpful links about native plants for Texas:
Native Plant Society of Texas
Explore plants at the Wildflower Center