Water conservation is on everyone's mind this spring. For most of us, it has been months since we've had any rain in Houston. Local gardeners are challenged to get creative with their containers and garden beds. Water is a limited resource and expensive, so here are some tips to help you enjoy your garden while still being water conscious.
Plant herbs. Most herbs require little care while providing enormous benefits. These culinary delights are drought-tolerant, fragrant and flavorful. They are essential ingredients in creating delicious meals that stretch your grocery budget.
Herbs in the landscape look beautiful when grouped together and provide a place for your eyes to rest among bloomers. They enhance the visual punch of your flowers in the garden.
Why buy fresh-cut herbs at the grocery store and pay over and over for them? Growing them is easy. They're rich in antioxidants, have loads of health benefits, and are a great substitute for salt. More flavor, less sodium is always good.
Grouping herbs based on water requirements
Growing herbs in Houston's nutrient-rich clay soil can be tricky if the soil holds water. (I know what you're thinking… why worry about drainage when we haven't had rain). Rain will come and most likely it will be a deluge when it gets here. Herbs thrive in well-draining soil. Our heavy clay soil holds water and can quickly drown the roots of plants that prefer their feet dry. Herbs are the perfect companion in a drought-tolerant perennial garden (see our display this week of Drought Tolerant Perennials at the nursery).
Herbs in the Garden Beds
Unless you are using large containers, planting herbs in raised garden beds of well-drained soil is best. So if you have raised beds, or have garden beds that have been amended to drain well, you're in luck. Mint can grow aggressively by sending out runners, so I recommend this one remain potted, else you'll find it popping up everywhere in the garden.
Make sure your soil is well-draining. Adding organic matter (compost) will improve fertility, soil biology, and drainage. Herbs prefer a neutral pH of 6.5-7.0. If you suspect your soil pH is off, have it tested. One benefit of raised beds is you control the mixture of soil that goes in it, including the pH.
Herbs in Containers
Using large clay pots with drought-tolerant herbs is a good strategy if you are trying to save on watering. Those herbs do better with the aeration clay pots provide. I would also suggest morning sun, and avoid placing the containers where they will receive afternoon sun. By grouping plants based on their watering needs you can be more efficient in how you use water. This way no plant gets too much or too little water. Deep watering is best and will encourage roots to move down into the soil to find water. In doing so, they will be more drought tolerant. Containers will need more water than those planted in your garden beds. Avoid small containers – it is better to use one large container and plant a collection of herbs together.
Drought Tolerant Herbs for the South
Thyme, rosemary, lavender, sage, oregano, curry, and marjoram do well with little water once established. Lavender and thyme do not like our humidity here in Houston, so it is very important that the soil be extremely well-draining. Try mulching with pea gravel and small stones to help dry the air surrounding these plants.
Typically the herbs that have grayish leaves and/or woody stems will require less water. These are considered Mediterranean herbs and are suited for dryer climates.
I've had good luck with this Goodwin Creek Lavender in a large clay pot using pea gravel for mulch. I planted it last year and it is blooming right now in the garden. I also amended the potting soil by adding a little sand to it.
Basil is a summer favorite and loves the heat, but it does require a little more water, so I suggest you plant these types of herbs together in another container. Basil, mint, lemon balm, and parsley need a little more moisture and can also tolerate a little more shade too. Keep pinching the flower heads off your basil so it remains compact and bushy – it will also taste better as the plant will be focused on leaf production versus flower production.
Cilantro is difficult to grow here in the summer, so I would suggest planting in early spring or fall. If you do plant it now, harvest some of the leaves and freeze them for use later in the summer. I am going to try growing cilantro in a shady, cooler spot this summer to see how it does.
Harvest parsley leaves (I prefer the Italian Flat Leaf Parsley variety) from the outside in. New growth comes from the center of the plant. To keep the parsley from flowering, cut the stem in the center when it bolts (sends up a taller flower stalk).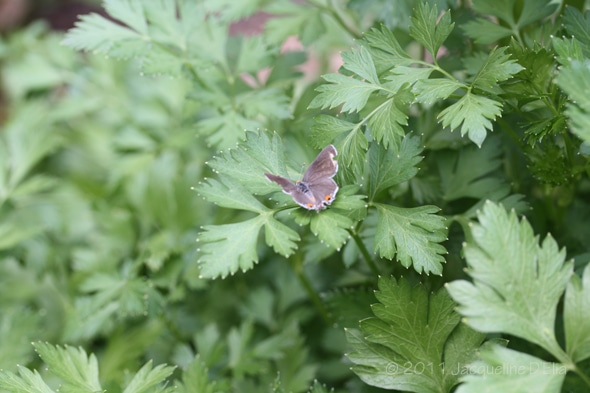 Keep parsley out of the afternoon sun, and it may make it through the entire summer.
TIP: I've moved many of my containers that were in full sun to shadier areas of the garden. Avoid afternoon sun which drys out your containers quickly. Many garden books offer advice for gardeners in northern climates – where full sun is less intense. In Houston, I've found most plants (other than succulents, cacti, etc.) in containers will do better with afternoon shade.
Herbs in Stock!
Buchanan's has herbs in stock and ready for planting. Why not add some herbs to your garden this week and enjoy the benefits while saving water too?
Want to learn more about gardening here in Houston?
Stop by The Bungalow – you'll find gardening books suited for our area.